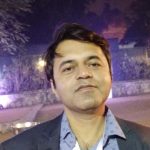 Siddhartha Roy
Siddhartha (Sid) is the co-founder of Digilense and has 18 years of experience in marketing, communication and demand generation. He has worked in various global organizations like Oracle, Altran (formerly Aricent), CitiXsys to name a few. He has led the marketing in a few start-ups and saw a few brands grow from the start.
Sid holds an MBA degree in Mass Communication and has completed an executive course in Digital Marketing from Columbia Business School (Ivy league).
---
Rajdeep Dhar
A techno-commercial executive with over 12 years of experience in business development and marketing. A start-up enthusiast, Rajdeep has been instrumental in shaping up the growth strategy of some of the brightest tech start-ups of today. He played a pivotal role in Digital Transformation for companies like Merck, LivPure, Amity University, Singapore Airlines, to name a few. A keynote speaker, he has delivered perspective of "Value Creation Through Digital Marketing" at "India Mobile Congress recently. As a Digital Marketer, Blockchain and AI expert, he truly has great expertise in these fields.
Rajdeep is a management graduate and an MBA in Marketing. He also has an MS in Human Psychology, and holds certifications in Artificial Intelligence  & Blockchain.