With more than 3 million mobile applications in major apps stores, getting your app found is perhaps the greatest problem facing mobile app publishers today. How would you stand out in an already overcrowded field of competitors? Also, maybe more importantly, how would you get your application to rank high in an App Store search, and ensure it matches the purpose of searches in the App Store lookout? The key is utilizing solid App Store Optimization strategies for Google Play and iOS App Store.
App store optimization or ASO is the process of optimizing mobile apps to rank higher in an application store's query items. The higher your app ranks in an application store's search results, the more noticeable it is to potential customers. That expanded visibility will in general translate into more traffic to your app's page in the app store.
The objective of ASO is to drive more traffic to your app's page in the app store, so searchers can make a specific action: download and install your app. The basic guideline of ASO, besides ranking high in the app store search result, is the emphasis on click-through rate (CTR). This implies you need to first influence users to really click into your app store listing once they discover it. You can do so by optimizing your App Name, App Title, App Icon, App Screenshots and App Rating. But, it doesn't end there. When users navigate to your app store listing page, you need to ensure they additionally download or install the app. This part of In-App Store Optimization is also called as Conversion Rate Optimization (CRO).
CRO is the process of increasing the percentage of conversions from a website or mobile app. Conversion rate optimization is important because it allows you to lower your customer acquisition costs by getting more value from the visitors and users you already have. By optimizing your conversion rate you can increase revenue per visitor, acquire more customers, and grow your business.
Optimization Items
Now coming back to ASO, while app store features and available fields will vary, the following are the core optimization items you will need to focus on and improve:
App name, URL, and subtitle: Ensuring they reflect the core keywords describing your app as well as reinforcing value, differentiation and other perceived value signals. It is important that these areas reflect the highest value keywords and user search behavior.
App keyword field(s): These are imperative to get right and to update to show latest and changing user search queries. Traditional keyword research is required for optimizing this.
App ratings and reviews: A core trust area for users as well as a ranking signal for app stores. Volume, freshness, and ratings all matter. You will need to have a framework in place for generating regular reviews as well as for replying to and engaging with reviews.
App downloads: As you would expect the more downloads your app receives, the higher the perceived buzz, demand, and user value associated with the app. Increasing the volumes of downloads will support increased prominence within the app store organic ranking.
Difference between ASO and SEO?
ASO: In general the objective of ASO is to increase an app's rankings on high volume keywords with the ultimate goal to increase downloads. As discovery gains importance on both the app stores, ASO experts now also start to focus on strategies that help increase their app's visibility in editorial content, stories or similar app cards. Search queries in the app stores are in general shorter than on the web. People tend to search for specific apps by their brand name or are looking to discover new apps that can serve an exact need.
SEO: The ultimate goal of SEO is to drive more qualified traffic to your web pages through the organic search engines and help people find answers to their questions or discover new products or services. Due to the abundance of information on the web, search terms tend to be longer and more specific. When searching the web, people in general seek answers to specific questions or they make transactional queries looking to inquire information or buy a certain product or service.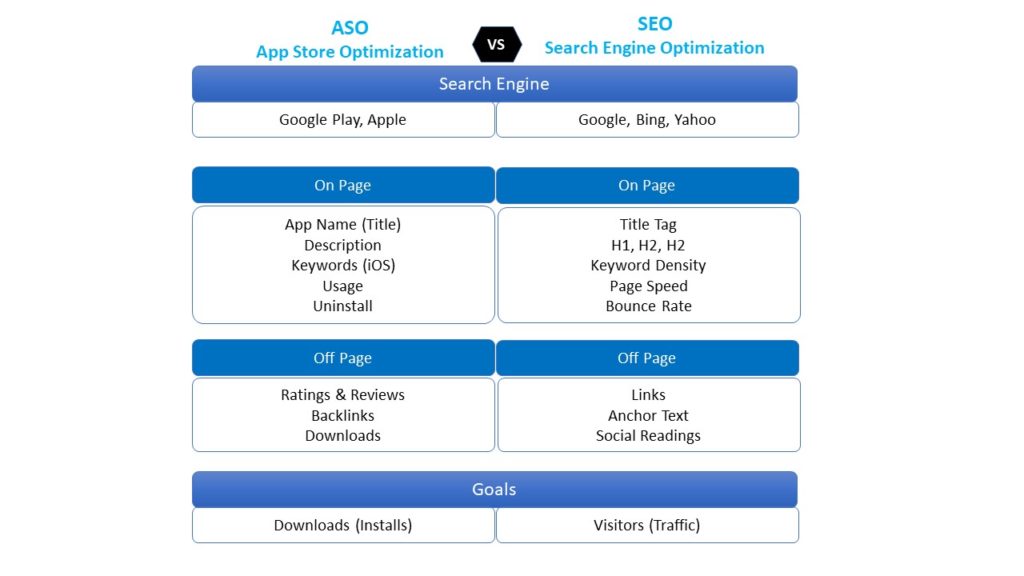 Benefits of ASO
You know since most users find apps via looking in the application stores so App Store Optimization is an absolute necessity for your app to be discovered by your potential customers. In fact, marketing gurus are of the opinion that optimizing your app is the most effective marketing strategy for mobile apps and games. This is how you can profit by App Store Optimization:
Improve your Visibility and Stand out in the App Stores
Users can't download and use your app if they can't discover it. So regardless of how incredible your app is, if it's not effectively discoverable you won't reach the app success that you deserve. Don't let all of your hard work go to waste, start optimizing!
Always get found by Relevant Users
It isn't adequate that your app can be discovered, it has to be found by the right users – users who are looking for an application like yours. App Store Optimization gets you to the right users since it matches your app to appropriate keywords. These are the search terms people will use to discover your app.
Increase your Organic Downloads
A decent ASO strategy will without a doubt boost your organic installs and guarantee long-term results. That's because when people scan for keywords related to your app, they'll always discover yours at the top. With regular monitoring and updating you can make sure your efforts are successful..
Cut User Acquisition Costs
Rather than burning through cash on ads, you can bring down your user acquisition costs by concentrating on organic growth with ASO. This not only saves you money, but also ensures steady growth.
Increment your Revenue and Conversion Rate
There are different ways to monetize your app. This includes in-app ads, in-app purchases, and subscription models. As a result many of you may decide to run ads to bring in more users and thus, more revenue. But if your app store listing page isn't converting, meaning convincing users to actually download your app, then your ad spend has gone to waste. Keep in mind, App Store Optimization additionally includes Conversion Rate Optimization, getting users to click through and download.
Develop your User Base Worldwide
By making your app accessible in different languages through an App Store Optimization process called localization, you can get users from everywhere throughout the world to find your app. ASO can enable you to make your app global.
Wrapping Up
If you really want to develop a successful app, which in addition to visibility and downloads, has the potential to generate steady income for you, then you need to pay close attention to your App Store Optimization strategy.
Remember, ASO is a gradual process. It may take some time to see the results, but stay on top of these ASO strategy and best practices and soon enough, it will pay off. We recommend doing a combination of paid mobile advertising, social media marketing, and ASO for your app in order to achieve the best results!